I hope you readers are enjoying this Bakeathon as much as we had fun baking these. Adding to the list of deep-dry converted to healthy bakes, is this Kurkure Bhindi. This is great as a snack as well as a side to a simple meal of Dal-Chawal or Khichdi. 
I made this for lunch along with Dal-Chawal, and my bhindi-loving elder one almost polished it off. Like the Baked Karela Chips, this too is GF and vegan (and actually made pretty much the same way), this is a great addition to the dinner / snack menu rotation. For those who love Okra, this can be an excellent party addition too 🙂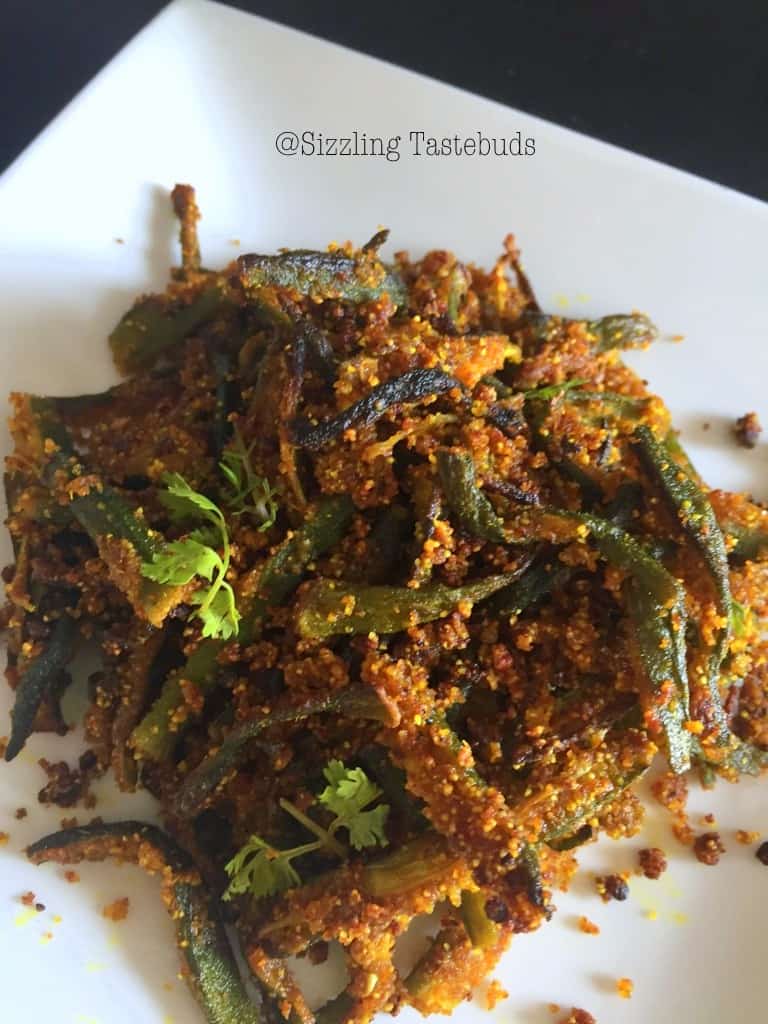 Pin

Do let me know how you liked this. So far this bakeathon, we saw:

Baked Pepper Sev
Baked Masala Buns
Baked Namakpare

Other Okra recipes (for the Okra love in you), include:

Prep time: 15 mins ; Bake time : 15-20 mins ; Serves : 2

Notes:
Watch over the okra constantly with rustling the tray often
Wash, pat dry completely with multiple layers of paper towels. 
Rest and then Slice the okra into thin strips, almost like juliennes.
The deep fry version is super crisp. this version has to be baked till they are dry yet crispy on the edges. If baked too much, the okra and the rava will burn & tender the dish bitter
Serve this dish immediately after prepared : it turns soggy within minutes.
I used Corn rava (fine bombay rava)  in place of cornflour. You may use cornflour if you wish.

Add salt and Chaat masala only at the end of the bake. Else they will turn watery.
Ingredients:
Okra – 200 gms (use tender ones only, the baby okras work best for this)
Olive / neutral oil – 4 tsp + 2 tsp (for spraying)
Salt – 1/2 tsp
Besan / Gramflour – 3 TBSP
Rava / fine semolina (GF version) – 1 TBSP
Red chilli powder, Amchur powder, turmeric, Coriander powder, Roasted Jeera (cumin powder), Garam Masala – all to taste
Chaat masala – to top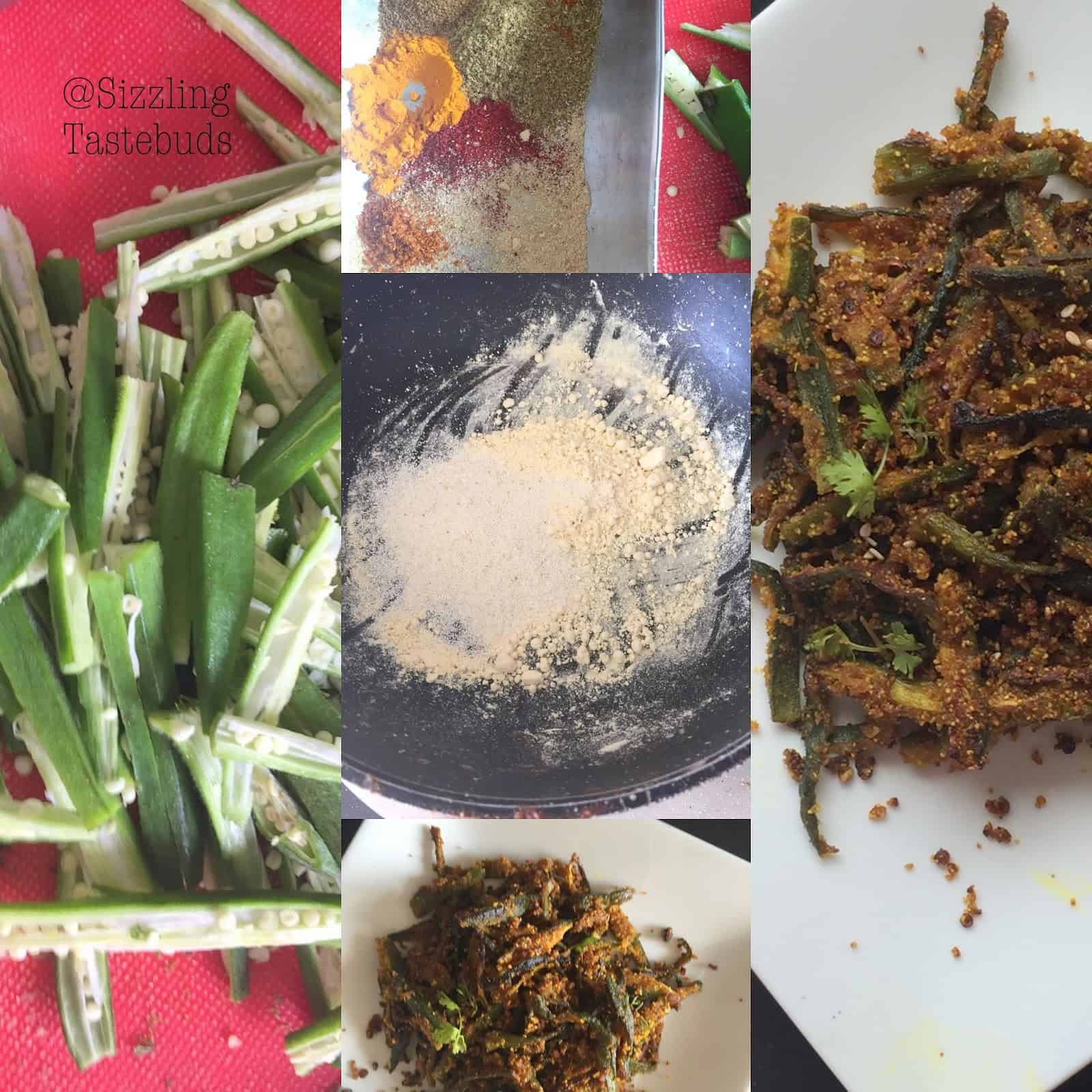 Pin
How to:
Preheat oven to 160C. 
Prep okra (refer notes above), cut into juliennes. 
Dry roast besan and rava, till fragarant, separately .
In a bowl, add the oil, spice powders, okra, and besan , mix well till all flavours combine (do NOT add salt)
Layer them in a single layer on a greased / lined baking tray, spray oil (2 tsp) and bake for 10-12 minutes, tossing them intermittently after every 3-4 mins
Now add the rava, and bake further for 8 mins (or till they turn slightly crisp).
Rest for 1 min. add Salt and chaat masala and serve immediately as a snack or with dal-chawal / Khichdi/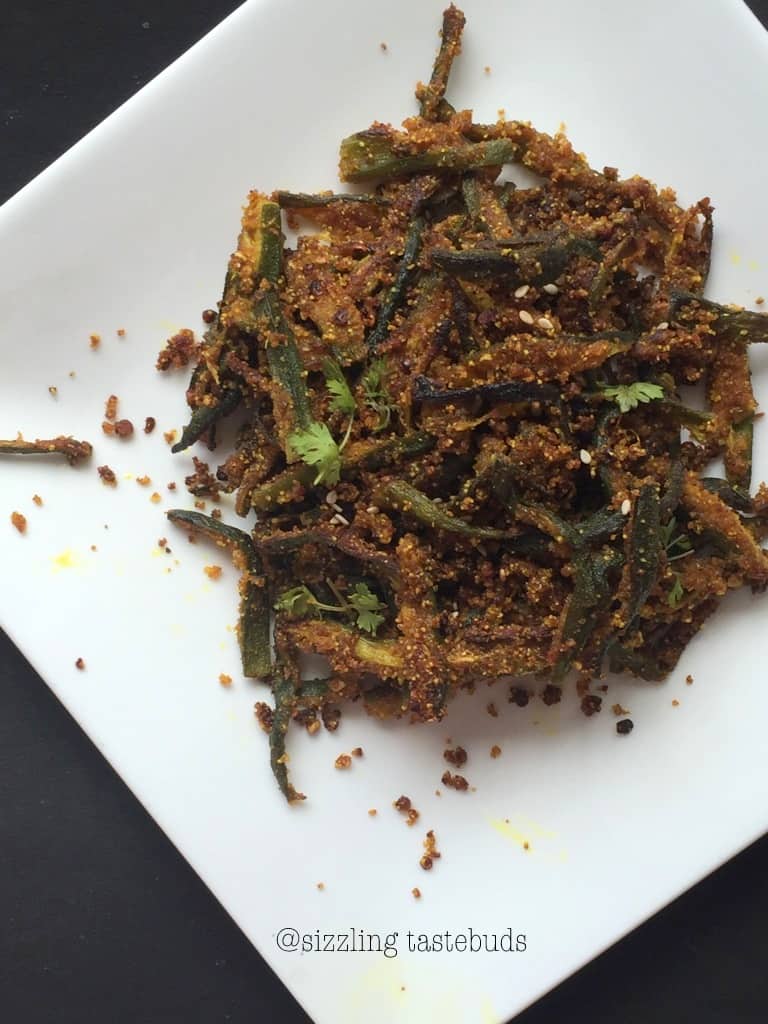 Pin
Pin 
 This is part of the Bake-a-thon 2017