Ivy gourd (a.k.a tendli / tondekai / kovakkai etc) is a rich source of dietary fibre. Great for diabetics, it's a very versatile veggie. We normally make Maharashtrian Masale Bhath, stir fry / palya , Mangalorean style Kadle Manoli Sukka (Semi dry dish of tendli with chickpeas), Gujarati style Corn-Tindora Shaak, etc with this vegetable. My favourite however is the Tindora-Capsicum rice
Today is a delicious GF, vegan bake that can be had as a snack by itself or served with dal Chawal or rice / sambhar – rasam like we did. 
Quick to make, it doesn't need any baby sitting while in the oven, except to toss it once every 6-7 mins. You can use either the microwave or the oven to bake this. I used the former and it was easy peasy to have a side dish while the main dal-Chawal was cooking on the stove top.
You can have this sightly crusty / crunchy or even slightly soft on the inside and crispy on the outside . Both taste equally good as a side dish.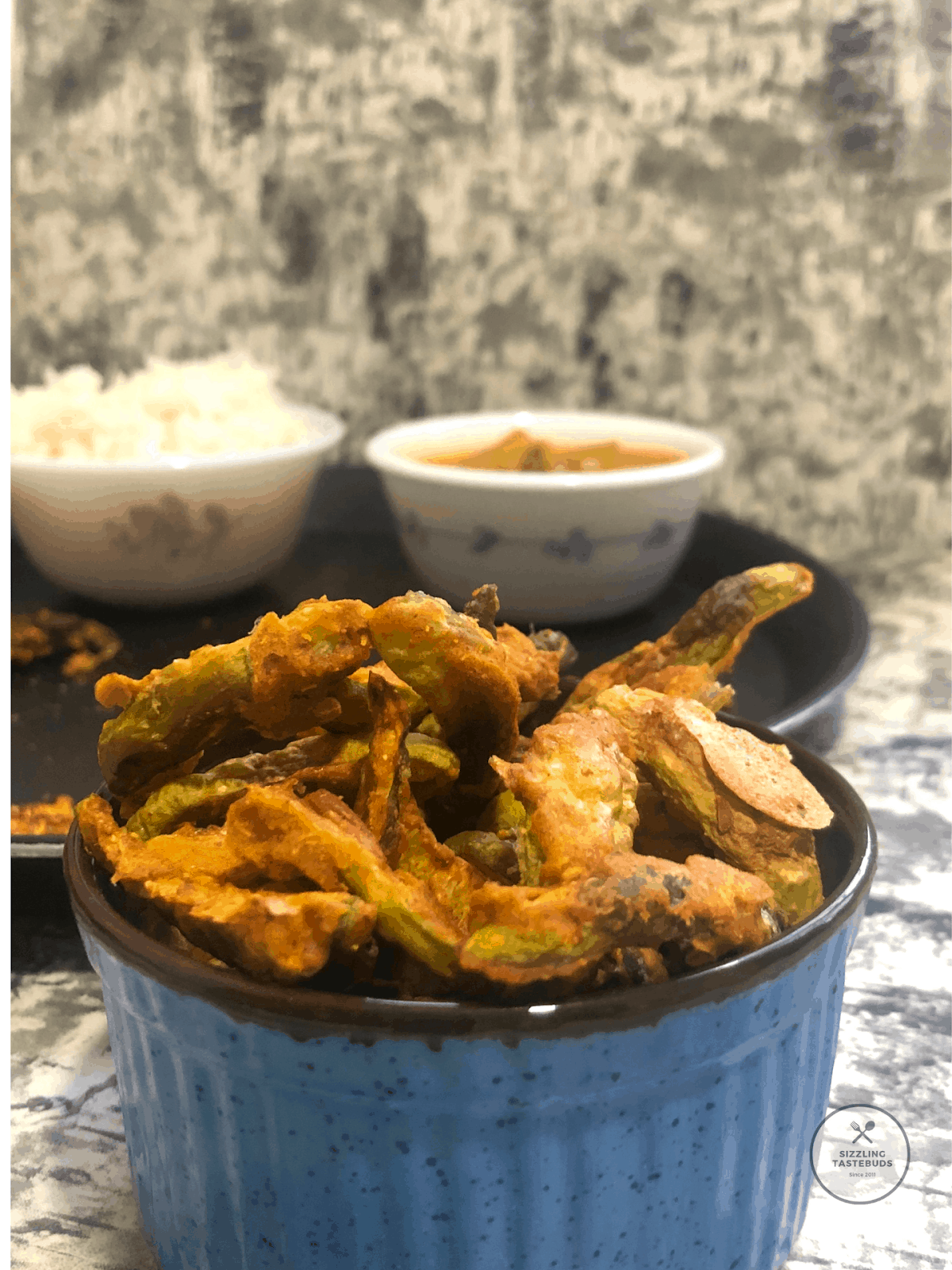 Pin
Check out the detailed tips to help you if you are a novice baking / kitchen enthusiast. 
Let's get to make this as I for Ivygourd goes to A-z recipe challenge event this month as we choose one ingredient from the alphabet every alternate month and cook from that ingredient. Head our to our group to know what else we have cooked from alphabet I this month. 
Prep time – 10 Mins ; Bake time – 16 Mins in all (could vary from oven to oven or microwave depending on your settings and moisture content)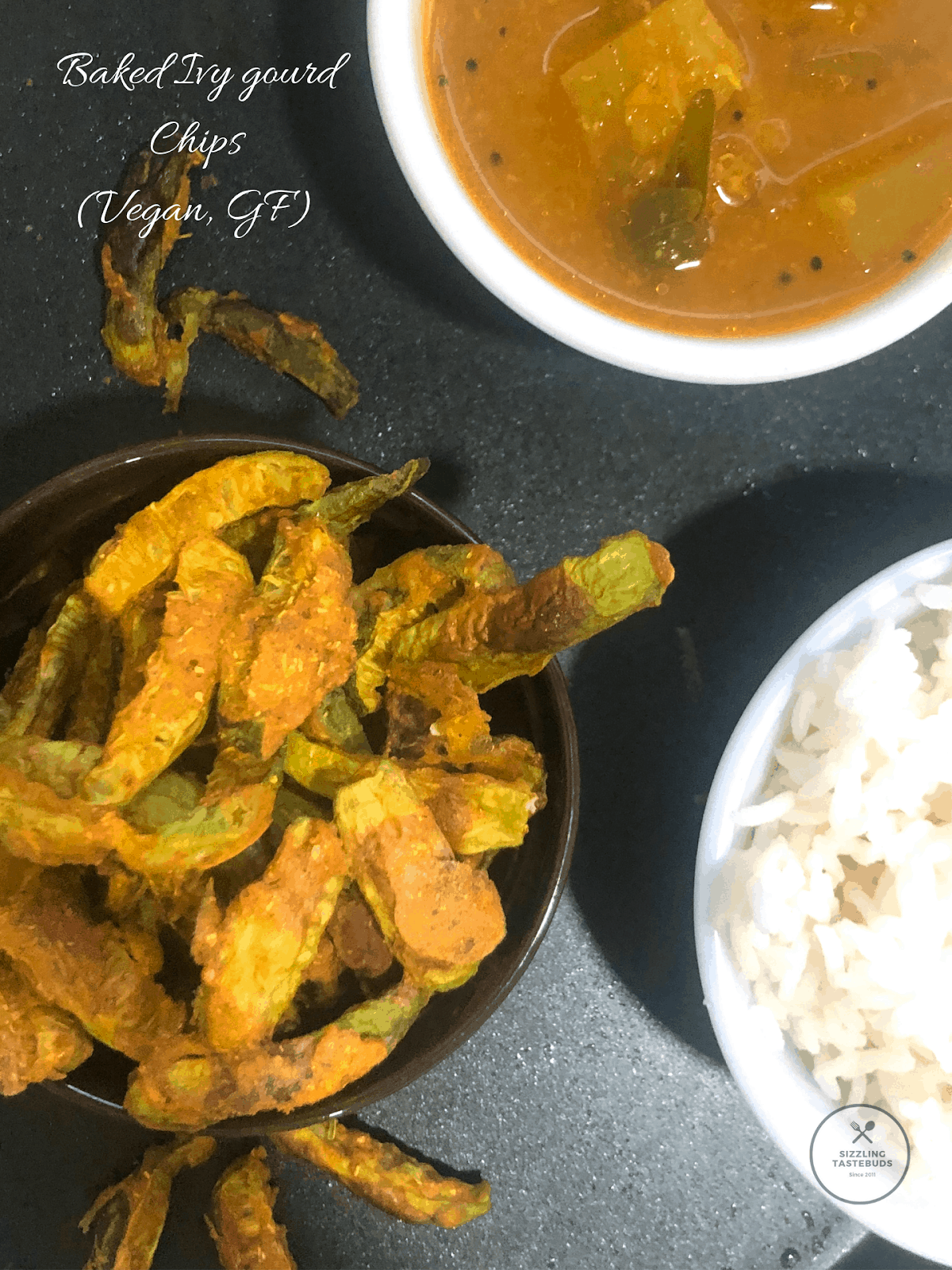 Pin
Tips:
Choose tender ivygourd for this , discard any reddish slices while you slice them. 
Wipe before and after slicing the veggies- you would need to take away maximum moisture before adding the marinade and baking it
Marinate for a minimum of 30 minutes for best results 
You can cut them into roundels or lengthwise. We always prefer lengthwise Tendli, and it looked more like french fries so that's how it turned out to be 🙂
If you are marinating ahead of time, don't add salt. Add the salt just before baking. 
You can increase or decrease the oil and spice depending on your family's preferences. Too much or too little oil can alter the taste considerably.
PIN FOR LATER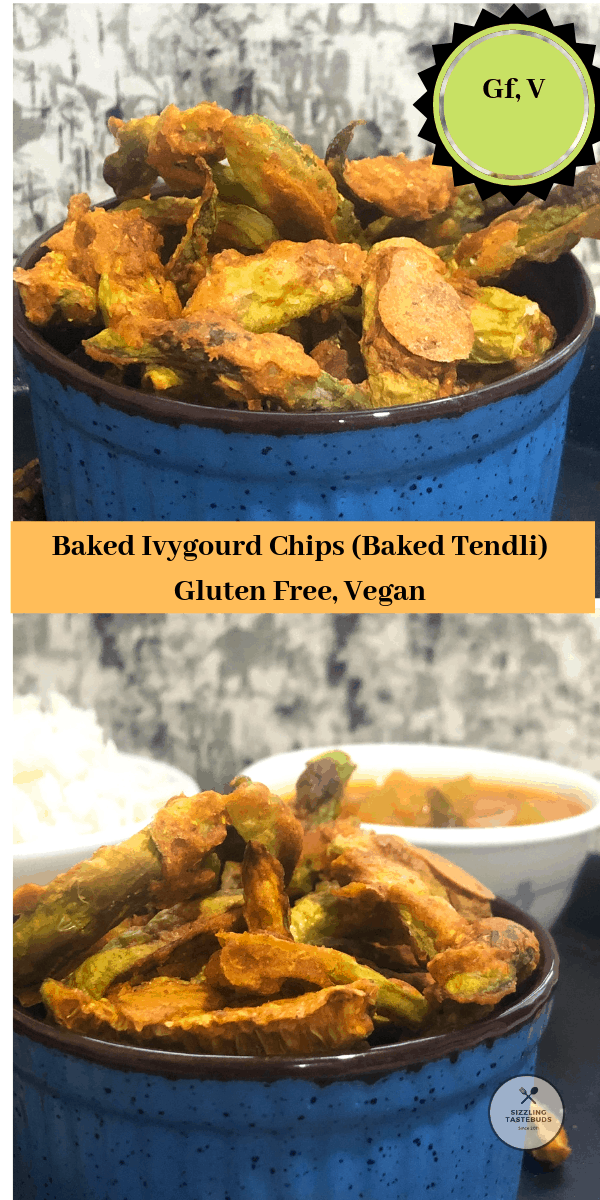 Pin
Ingredients:
Tender Tendli – 250 grams – washed , sliced into quarters lengthwise and wiped dry (spread on a kitchen towel and wipe gently)
Chaat masala and pepper to taste – for topping 
Oil – 2 tsp + 1 tsp for basting 
Marination:
Besan / chickpea flour – 3 heaped tbsp
Rice flour – 1 tbsp (I used brown rice flour)
Salt – to taste 
Red chilli powder- 1/2 tsp
Turmeric – 1/4 tsp 
Jeera powder – 1/3 tsp 
Coriander powder – 1 tsp 
Sugar – 1/2 tsp (opt.)
Amchur / dry mango powder – 1/2 tsp
Black pepper powder- 1/2 tsp
Oil – 2 tsp 
Method :
In a large bowl, add the marinade ingredients and whisk well. Add the sliced veggies and slowly cost the veggies with the marinade, sprinkling few drops of water if needed. Cover and set aside for 15/30 minutes minimum.
Meanwhile preheat oven to 160 C. Grease the baking dish with 1-2 tsp oil. Place the marinated veggies on the baking dish.
Bake for 7-12 mins flipping them once midway and basting it with oil. Bake again till crisp. 
(I microwaved on high for 8+6 +2 —a total of 16 mins till crisp flipping them over repeatedly) 
Sprinkle chaat masala & Serve immediately as a snack or with dal/Chawal. We had this for dinner along with rice/ sambhar 
If you are a fan of Tendli like us, do check out the following dishes on the blog!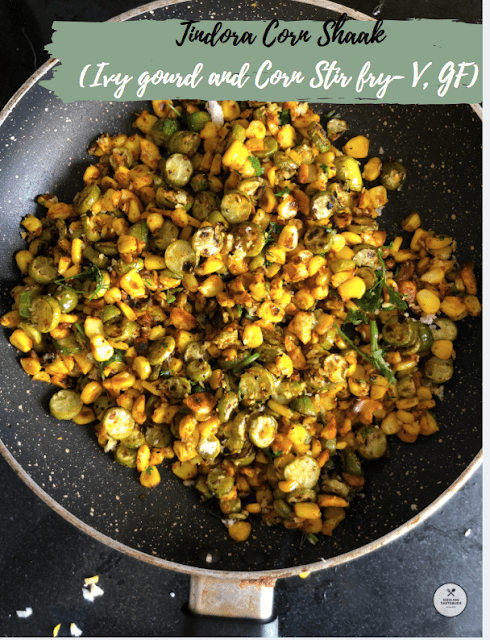 Pin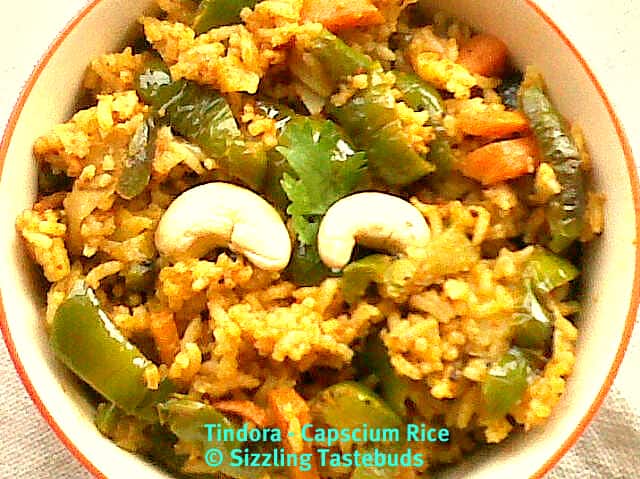 Pin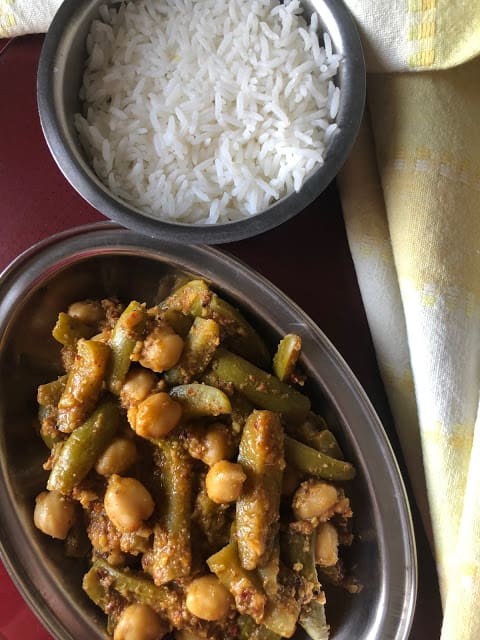 Pin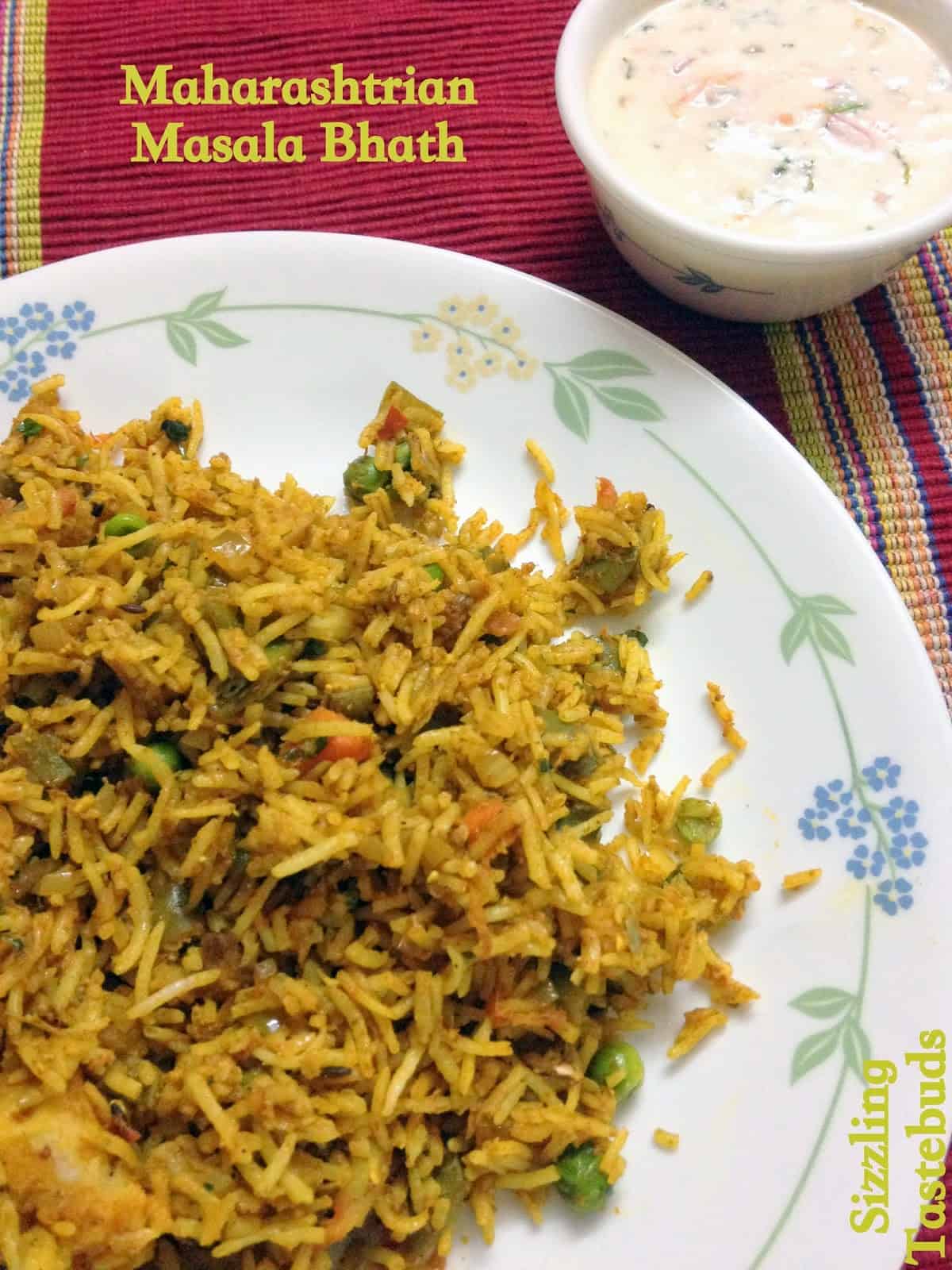 Pin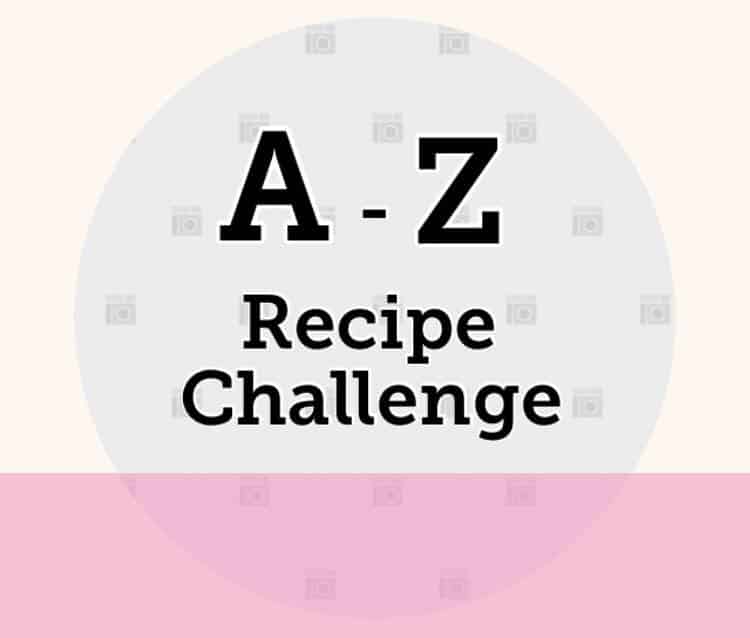 Pin