Gobi Manchurian is an
Indo-Chinese fusion which probably had its origins in the street food carts of
India. So much so that some people actually don't prefer the Authentic Chinese
served at fine dine restaurants. Be it as it may, each of these dishes are
favourites amongst kids and adults alike. I made this for a kids' party and
served it along with Hakka Noodles. I had made another low cal version of Veg Manchurian (with gravy) earlier. 
Being baked, this was
definitely guilt free than the original deep fried version. My elder one tasted
a piece before the party, and sweetly told me to click a pic of the dish before
it disappeared. Am so glad I did so, for the Kids truly relished it, and the older ones especially kept
coming back for seconds.
Hope you enjoyed this week's series of Kids Delight – Party Pleasers theme with this Baked Gobi Manchurian, Almond Meal – Oats – Honey Muffins & Tri bell-Pepper Toast for Blogging Marathon.
Stay tuned for another theme next week 🙂 Till then, enjoy this Baked and guiltfree version 😀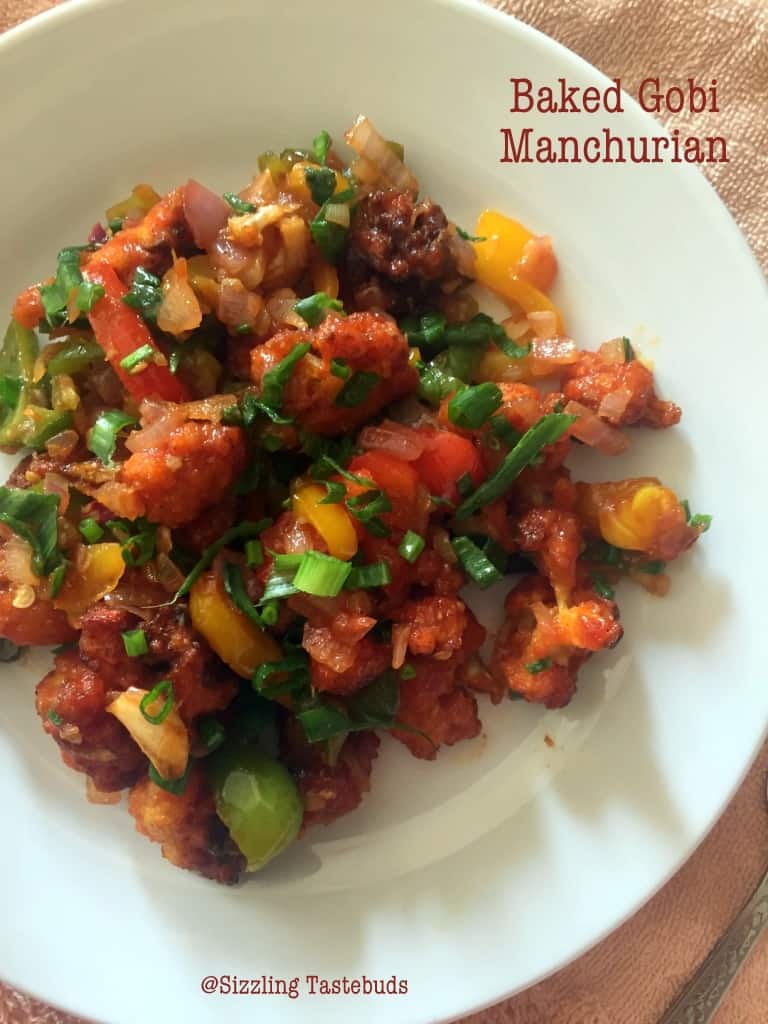 PinPin

If you are a fan of this
Indo-Chinese version, do give it a try, and it would be a hit at home.

What other similar dishes
do you relish? I am keen to know…

Prep time : 15 mins, bake
time : 15-20 mins , Cook time : 15 mins

Serves : 6 kids or 3-4
adults.

Cuisine : Indo Chinese,
course : Starters / snacks / appetisers

Spice level : Medium to
high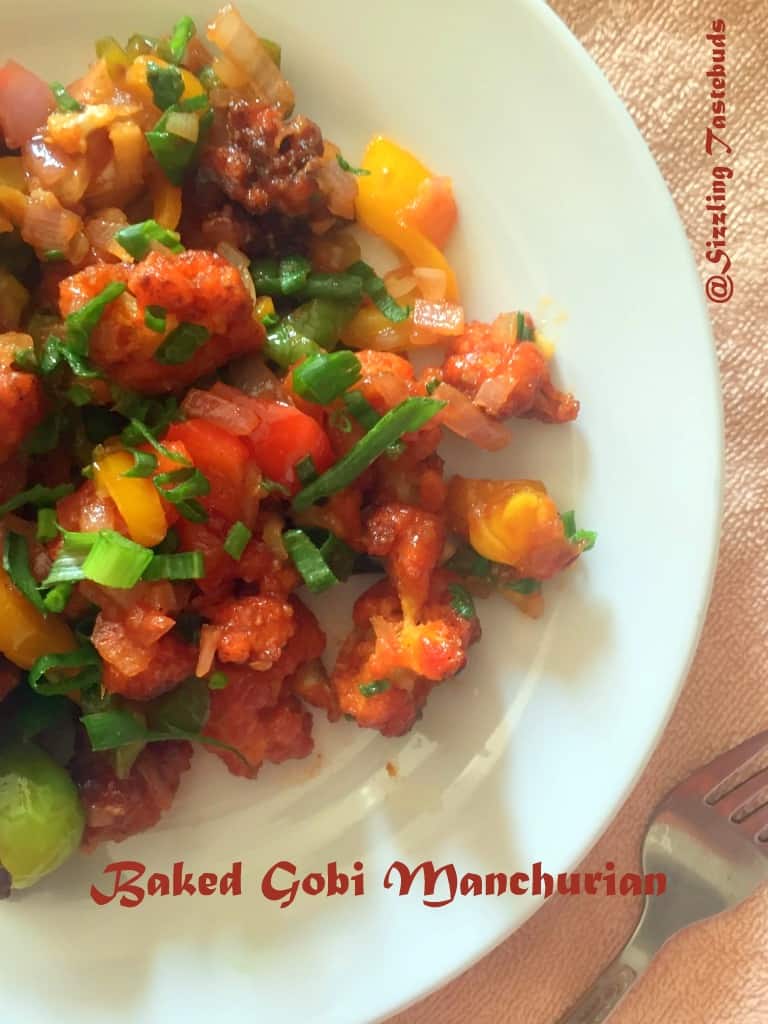 Pin
Ingredients: 
For the Cauliflower /
Marinade:
Cauliflower – about 400 gms
/ 1 largish head
Marination:
Besan / Gramflour – 4 TBSP
(you can also substitute with all purpose)
Cornflour –1 tsp (increase
by another ½ tsp if using all purpose flour in place of gramflour)
Salt – to taste
Thick Hung yoghurt – ¼ cup
Oil – 3 TBSP + 1 tsp
(divided use)
Kashmiri Red chilli powder
– ½ TBSP (you can sub with mild paprika)
Sauce / stir fry:
Oil – 2 tsp
Onions – 1 large
Minced Spring onions /
scallions (white and greens) – 3 TBSP
Minced garlic – 1 tbsp
Minced ginger – ½ tsp
Minced green chillies – ½
tsp (adjust spice)
Green pepper / capcsium – 1
medium ( I used yellow too as I had them on hand)
Tomato sauce – ½ tsp
Schezwan sauce – ½ tsp
Vinegar – ½ tsp
Brown sugar – ½ tsp
Topping:
Finely chopped scallions /
spring onion greens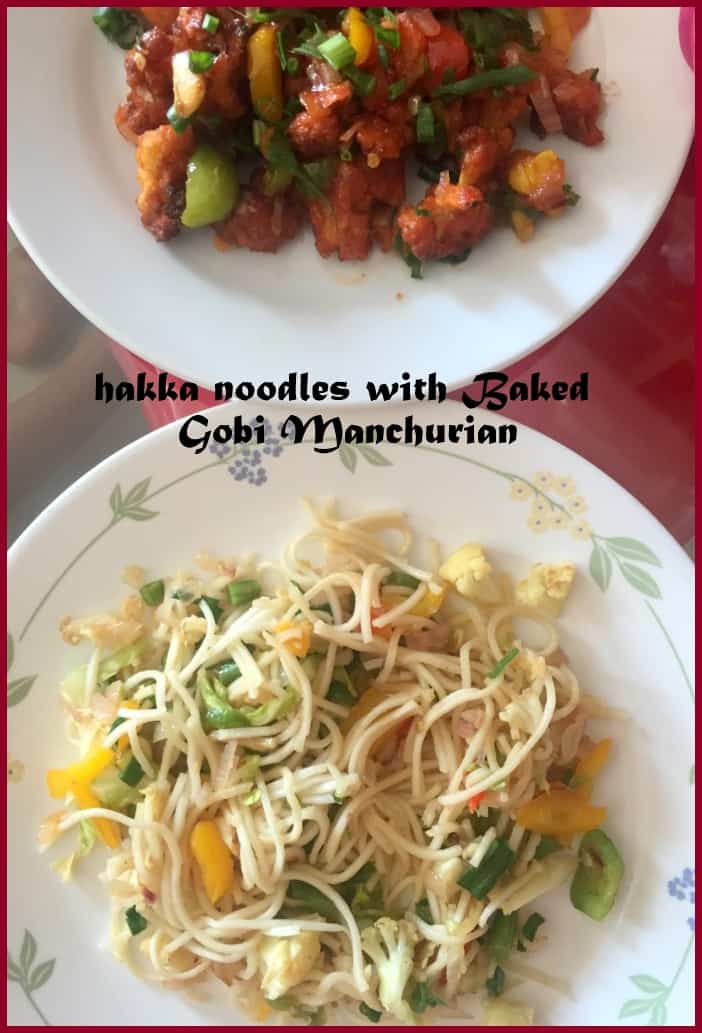 Pin
Method:
wash and cut the
cauliflower into bite sized florets and blanch it with a pinch of salt for 1-2
mins.
Drain thoroughly and dab
with kitchen towels (don't skip this step).
Mix all the ingredients for
marination. Add the blanched florets, oil and rest of spices and mix well. Let it marinate (covered) for 15-20 mins.
Towards the end of the
marination, preheat oven to 200 C and line a baking tray.
Arrange the soaked florets
without overlapping. (Make sure to shake off any excess liquid before placing
in the tray). Baste them with ½ tsp Oil.
Bake for 12-15 mins
(shaking them midway , turning them over and basting them with 1/2 tsp more
oil). Let them cool on a wire rack.
(( Oven temperatures may
vary – you need your florets to be 85% cooked, with a slight crunch)
 In a pan, heat oil. Saute
onions, garlic and ginger. Add the spring onions, peppers and toss once more.
Now add all the sauces, sugar and vinegar. Add the baked florets and toss
nicely till well coated.
 After 1-2 mins, serve
immediately topped with spring onion greens.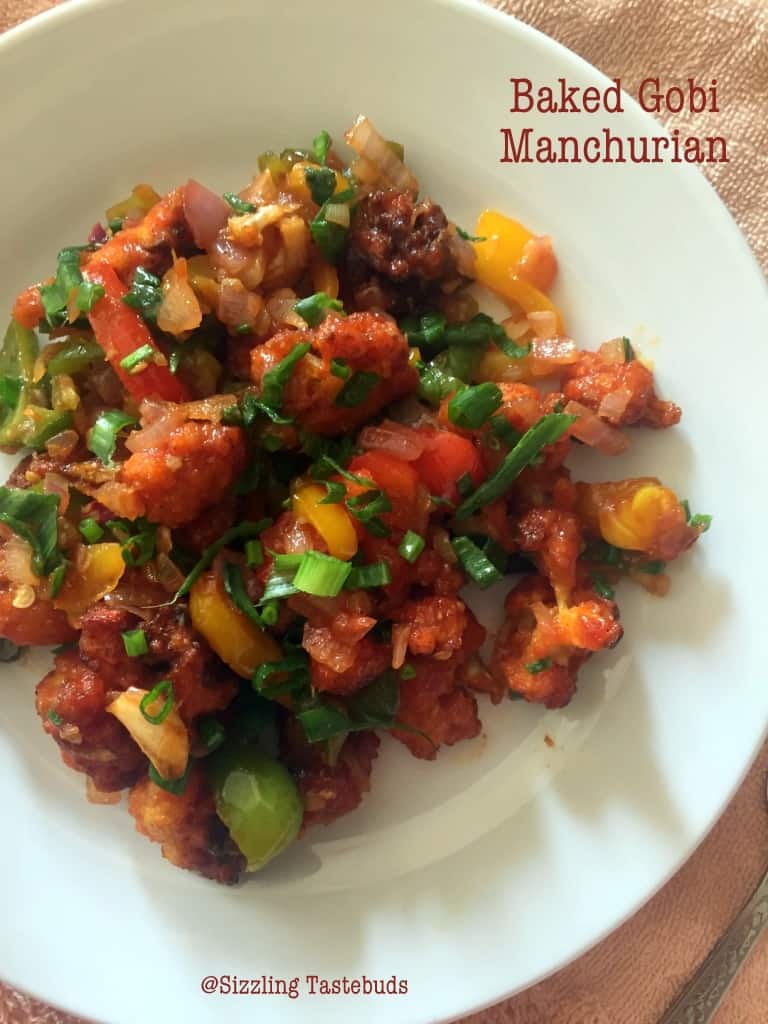 PinPin