Nuts and dry fruits are an
integral part of our snack and both kids like it. Sometimes the husband (as all
husbands, I think, who love to shop) goes a little overboard with buying these.
So, I am literally left with a lot of nuts, and that's not a nutty feelingJI do end up making pesto
sometimes or the microwaved spiced nuts or add them to Ladoos. The elder one
celebrated her birthday recently, and keeping in with a subdued celebration
(according to her, a bigger party was in order) a Kheer was made for the
morning before we went to the temple.  
So made this for a quick
sweet treat to end the meal on her birthday. As promised in this week's theme
on BM : just 3 ingredients (excluding salt, sugar, oil) and you have a
wonderful treat. Hope you enjoyed the series with Amrud ka Panha, Morkali and
today's Badam Sevai Kheer.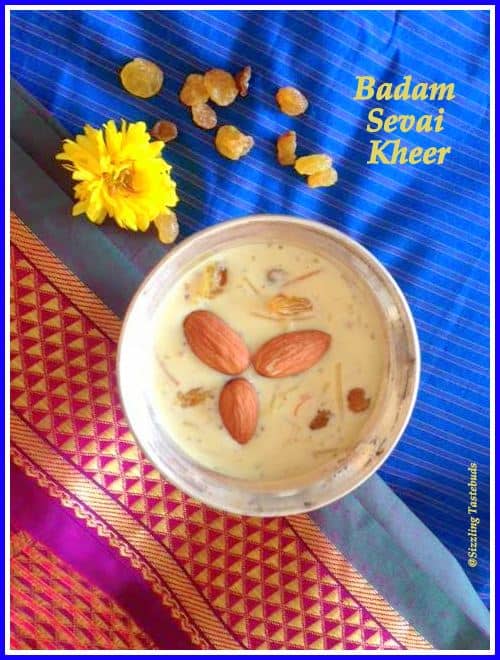 Pin




Prep time : 10 min, cook time
: 15 mins, Serves : 4

Course : Dessert, Indian
Sweets

Shelf life: Can be stored in the refrigerator
up to 3 days : Micro the required quantity only for 15-20 seconds before use if
consuming on the subsequent days.

To make:
Roasted Semia/ Sevai /Vermicelli
– ½ cup
Ghee – ½ tsp
Condensed Milk – ¼ cup
(Adjust to taste)
Almond Meal – ¼ cup (roasted
almond slightly powdered with a dash of cardamom and saffron)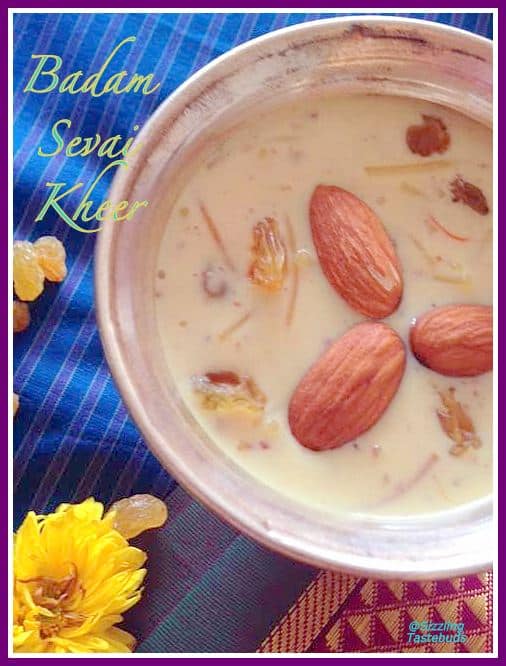 Pin
How to :
In a pan, add the ghee and
the roasted vermicelli. Sauté for 1 min, add ½ cup of water and close and cook
for 8-10 mins till fully done.
Now Add the condensed milk, almond
meal and mix well.
Keep stirring till you get
the required consistency.
Serve warm or cold or at room
temperature.
Pin