This raita is one of our family favourites and Amma (mom) makes it so often during the summers. It's great for the gut as well as goes great with Sambhar / Lapsi BIsibele Bhath (Broken Wheat +Lentil meal) or with anyOne Pot Mealthat we make often on weekends. It was also my dad's favourite with his cooked lapsi (broken wheat) when he was around , and so lots of memories are associated with this dish. 
Curd /Yoghurt has excellent probiotic qualities and is always a part of our meal via Dips / Raitas / Ashgourd in Yoghurt sauce(South Indian kadhi) or North Indian Kadhi Pakodi (gramflour dumplings in yoghurt sauce) or even theIyengar style Thayir Vadai (South Indian style Dahi Vada) . If you love yoghurt, you can check out the post on 30+ dishes using Curd as the star ingredient here. 
Who could forget the quintessential Tamilnadu style Curd Rice that every tambrahm probably eats eat least once a day ? For us , North Indian Chaats like this No Fry Dahi Bhalle / Dahi ke Kebab / Khatta Dhokla (GF snack)/  Dahi Batata Puri (streetfood / Chaat)HAS to feature almost once a fortnight on the menu.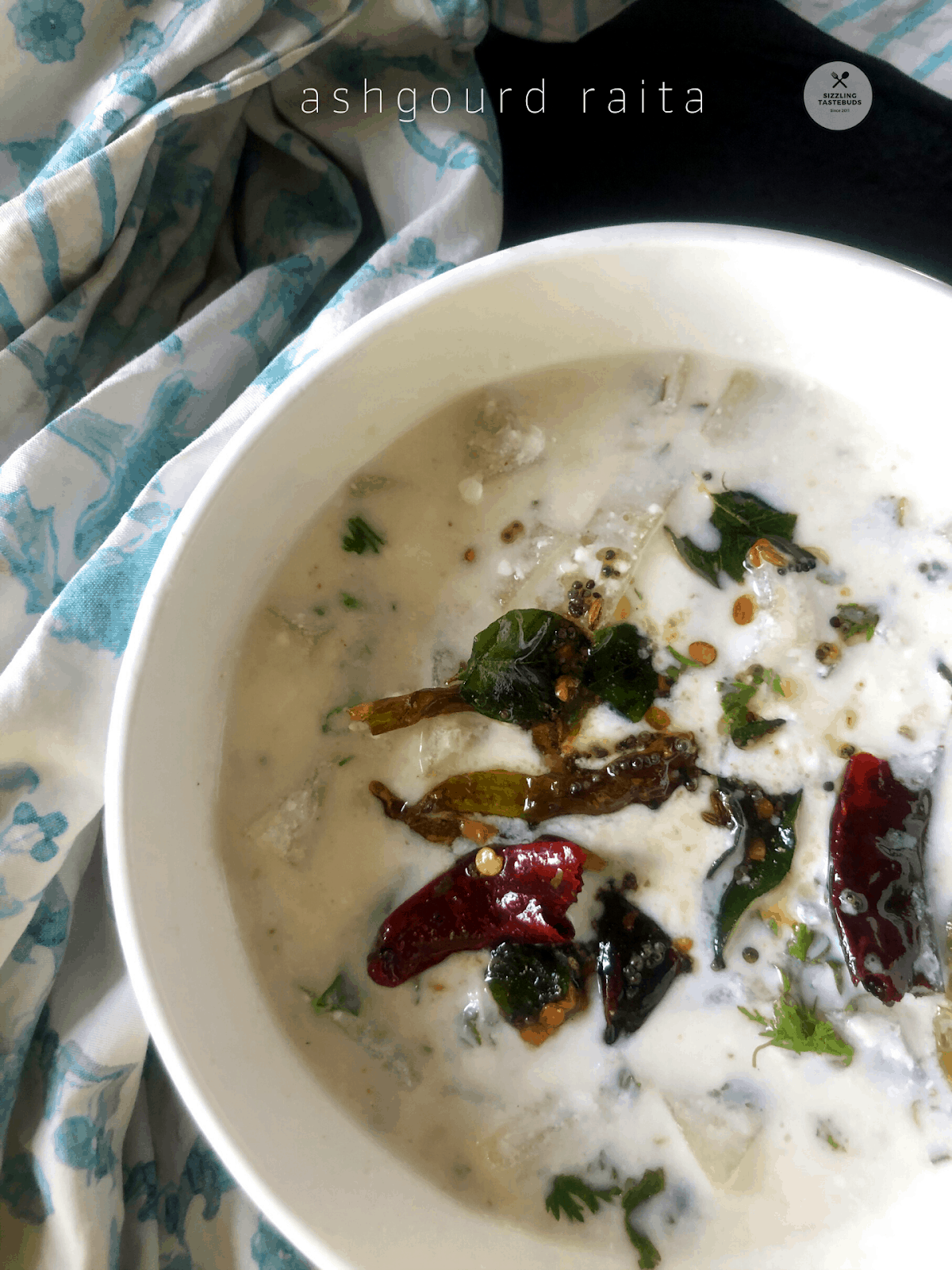 Pin

Poonam has asked us to whip up some Dahi Delights this week and am so eager to try out her Aloo Palda recipe shortly. 

Ash gourd raita / Pusanikai Thayir Pachadi | பூஸனிகாயி தயிர் பச்சடி

Gluten Free, Side Dish ; Cuisine : Tamilnadu (Indian). 

Prep time – 10 mins, Cook time – 10 mins, Serves – 2 ~3

Ingredients :

White Pumpkin / Ashgourd / Bhopla – 100 grams

Thick yoghurt –   200 grams – whisked well

Salt – to taste

Grated coconut – 2 TBSP

Garnish – chopped coriander (opt.)

PIN FOR LATER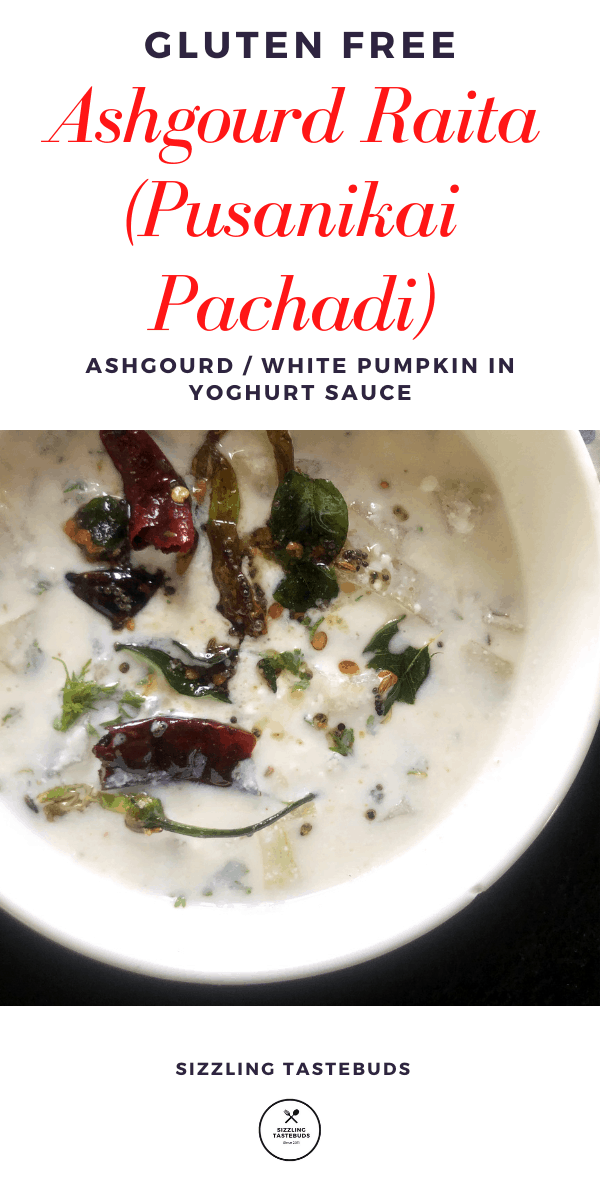 Pin
Tempering: 
Oil – 1/2 tsp
Broken Red chillies – 1 no.
Green chilli – 1 no. 
Curry leaves – few
Cumin / Jeera – 1/2 tsp
Urad dal / split black gram – 1/4 tsp (opt.)
How to:
Wash, Peel and cut the white pumpkin into longish cubes. Boil them in lightly salted water till they are soft (add just enough water to cover the vegetable while cooking as ash gourd itself releases a lot of water).

 

Drain the cooked ash gourd to a bowl.

 

In a pan, add oil, make the tempering and add to the ashgourd. Mix well. Cool Completely.

 

Add the whisked curd, salt (if required) and mix well.

 

Serve chilled or at room temperature.
More Raita Recipes on the blog:
Palak ke Raita (spinach in curd sauce)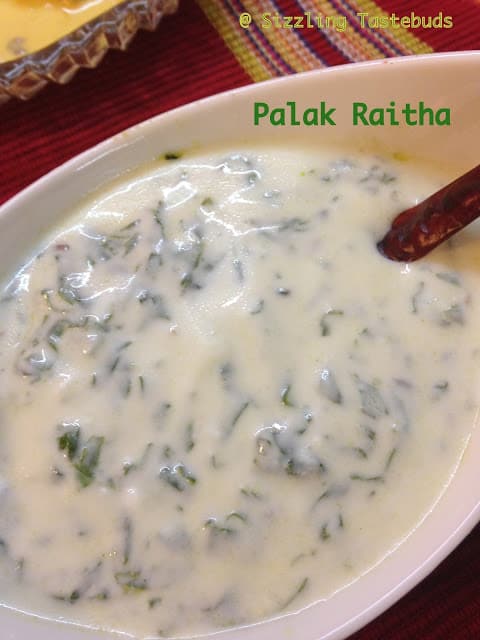 Pin
Vendakkai Thayir Pachadi(Okra Raita)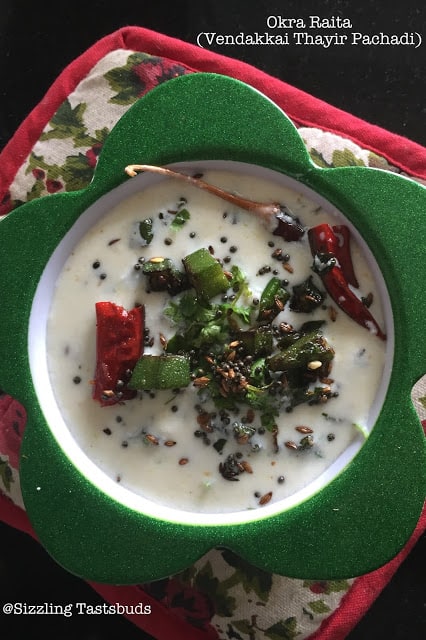 Pin
Mooli Raita (Radish Raita)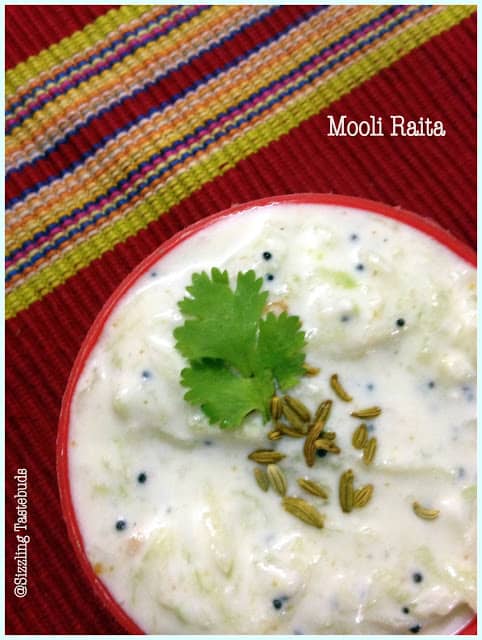 Pin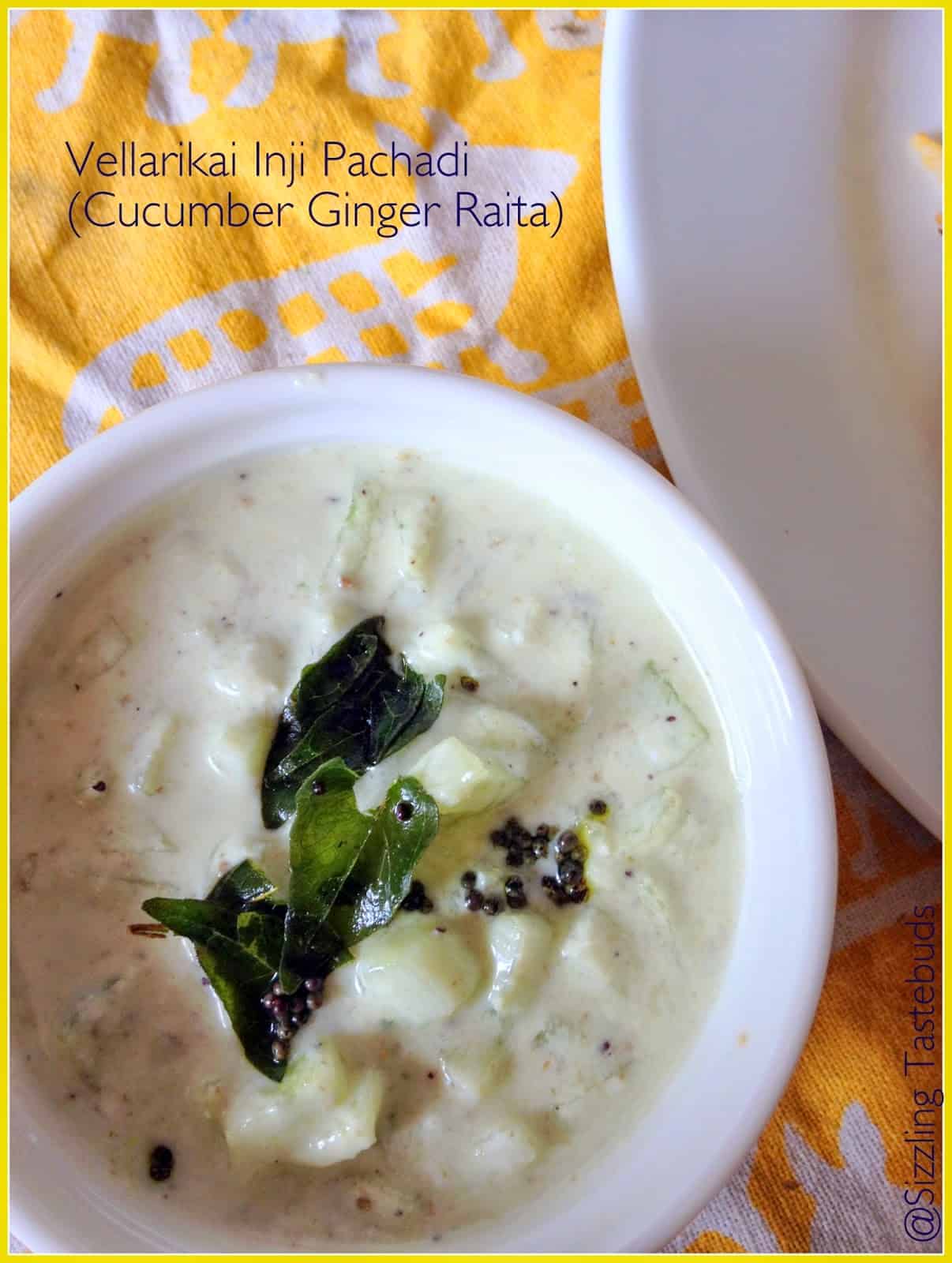 Pin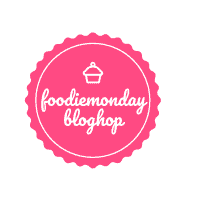 Pin