This is a rather long post covering two agendas : A festive celebration dish as well announcement of my new event for August – Healthy Lunchbox Ideas . Let's get on with the dish first:
Today is Aadi Pooram (or in correct Iyengar lingo : Thiru Aadi Pooram) – a festival to celebrate the power of Shakti in most South Indian, esp Iyer / Iyengar households in the holy month of Aadi (or Aashaad) in the Hindu Calendar .. Its also called Andal Thirunaal (or the birthday of Andal – she is a semi-god amongst pantheon of South Indian Gods ) – you can check out more detailshere. Although, I am a God fearing person, I generally don't attibute to too much religious fervour (esp those of the favour-asking-type poojas), but this time around, I was in the mood to re-visit my childhood days. Perhaps I am growing old – too fast, too soon 😉 ??!!
Paati (my maternal grandmom) used to dish out and pack in yummy and slurpy Akkaravadisal (a sweet rice based pudding) on this day for my lunchbox, and friends used to borrow (and finish) my lunch box even before I could look at this dish. She used to make this in a unique Vengala Paathram (vessel made of bell metal, perhaps) and that lifted the dish's taste several notches higher- my tribute to my loving paati through this dish, albeit with my non stick cutlery:-)
For those looking for the Instant Pot version, head here on my blog.
A video version is also included here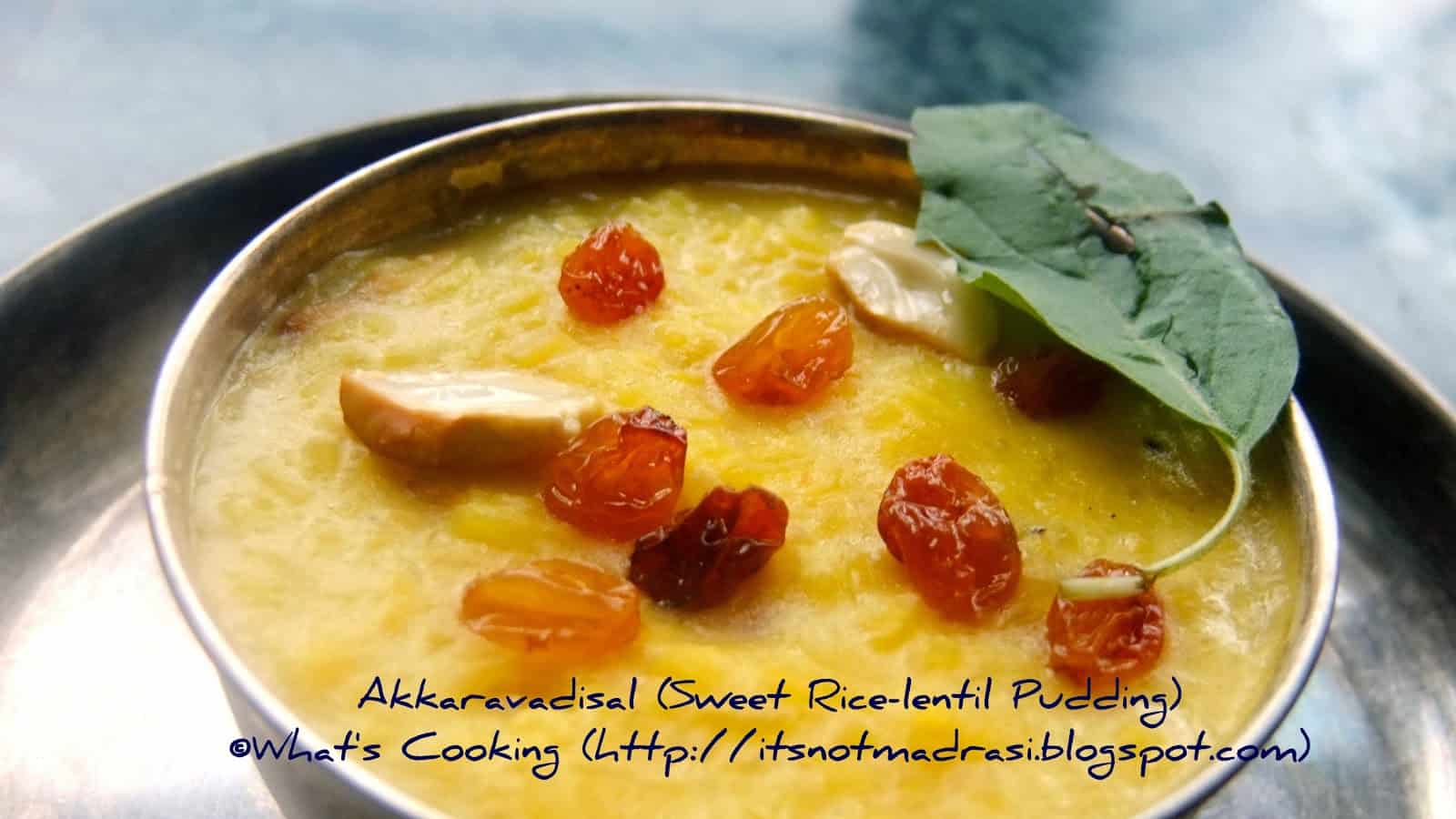 This goes to Priya'sBookmarked recipesand also to my own event : Indian Mithai Mela
Friends: Do check out a new event announcement at the end of this post !!
Prep time : 20 mins. Cooking time : 15 mins. Serves : 4
Ingredients to go:
Raw rice – 1 cup
Split Moong Dal – 1/4 cup
Milk – 1 cup (I reqd slightly more)
Jaggery – 1 cup approx
Ghee – 4 TBSP (split use)
Cardamom powder – 1/4 tsp
Salt – 1/4 pinch (opt)
Garnish : Cashew, Saffron, Raisins
Method:
1) Wash and soak rice and dal separately for 10 mins.
2) Drain and fry them in 2 TBSP of ghee for 3 – 4 mins till a nice aroma wafts out.
3) Cook rice, dal, milk and water in a pressure cooker for 4 whistles on slow heat.
4) Powder the jaggery. Dissolve in 1 cup of water and stir in continuously on low flame till 1 string syrup is obtained. Filter throught a cheese cloth/ fine mesh to remove any impurities from the jaggery. Cool the syrup to room temperature (very imp)
5) Mash up the mixture from the pressure cooker finely. Add this jaggery syrup into the mixture and mix lightly till it incorporates.
6) Now add the powdered cardamom, saffron.
7) Fry cashew and raisins in remainign ghee and pour over the simmered payasam. And voila ! there you have yummy and slurpy Akkaravadisal !
8) Serve hot or cold.
Please note : The consistency of this dish should be semi solid. If the end preparation is too solid (tightly packed), stir in few TBSP of warmed milk. This dish can be eaten for upto 4 – 5 days under refrigeration !
More like this:
Now, to the event announcement :